By playing the
PokerStars monthly Tournament Leader Board
, you will have guaranteed first-place prizes and also challenge yourself to be a better, skilled and notourious local MTT player in India!  
It's very simple! All you have to do is place in the top 15% of a regular MTT tournament and be awarded with TLB (Tournament Leader Board) points. Based on the amount of points and on the buy-in of the tournament that you enter, you can get for the 1st place in Monthly TLB Prize ranking a prize of T ₹1,10,000!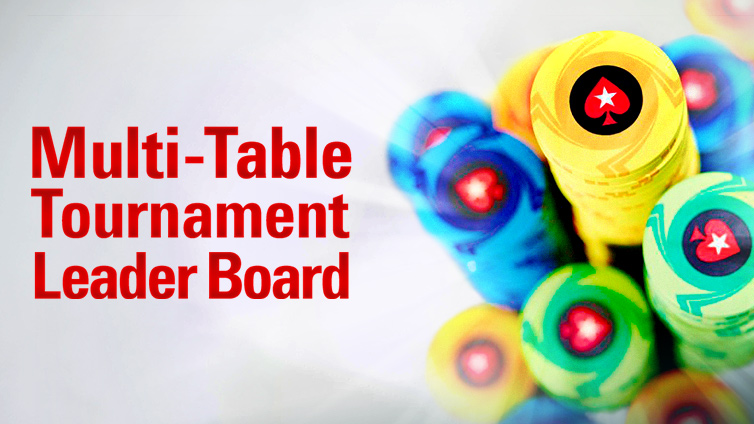 There are plenty of opportunities to win every month and to win huge prizes. The PokerStars Tournament ranking system rewards players who rank from 1st - 120th in the monthly leaderboard.
         PokerStars Monthly TLB Details:
The promotion goes on from 10:30 IST on the first day of the month to 10:30 IST on the first day of the following month.
The players that finish in the top 120 of the monthly Leader Board will share a total of T ₹5 Lacs in prizes, with first place claiming T ₹1,10,000.
Satellite tournaments, heads-up tournaments, shootout tournaments, restricted-entry tournaments, private tournaments, play money tournaments and Stars Rewards Freerolls will not count towards the rankings.
Only your 20 best results will be counted for the monthly rankings.
The formula used to determine the total points awarded to a player (in the top 15% of finishers) for any given tournament is: Points = 10 * [sqrt(n)/sqrt(k)] * [1+log(b+0.25)] (please click here to know more)
The PokerStars tournament ranking formulas are designed to reward excellent performance and frequent play.
BUT THERE'S MORE!
If your Bankroll doesn't allow you to play PokerStars Monthly Tournament Leader Board, you can always practice and improve your skills with our School Pass Daily Freebuys.
Just for clicking the button below, you will share this article on Twitter and
be award wit 3x School Pass tickets to your PokerStars account
. See the full instructions on the
Share & Win promotion page
!